October 24, 2007
Carlyle Scottish Ale
Tonightís beer is more of a teaser then anything else. Only a select few of my readers are able to get their hands on this beer and a handful more have actually been lucky enough for me to bring a growler with someplace so they can try it. Tonight Iím going outside my norm and reviewing a beer a drink on a regular basis. Mainly because, despite what I said, I can not bring myself to dump out a full un-opened growler of beer. Tonight Iím reviewing the Scottish Ale by Carlyle Brewing Company.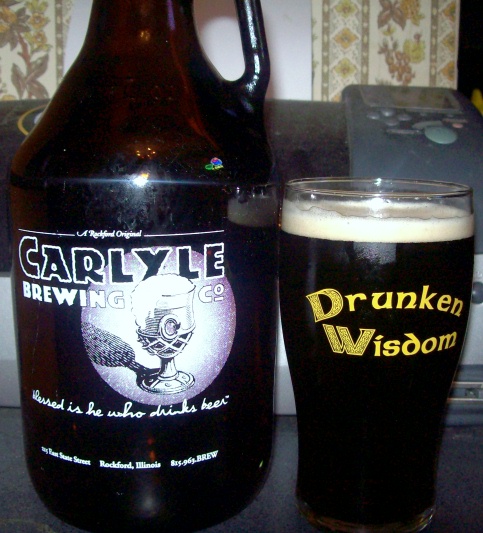 There is only one way you can get any beer from Carlyle right now and thatís in a 64 oz brown glass bottle they call a growler. (Someday Iíll do a post about what real growlers are.)On the front in white screening is the name of the company. There is a white circle with a picture of a foaming mug in the center of it. Across the bottom it says ďBlessed is he who drinks beer.Ē It also has their address and phone number on it.
While one could attempt to drink this from the bottle, I highly recommend pouring it into a pint glass, just for the ease of handling. For this special occasion I used my Drunken Wisdom Pint. There is a dark brown coloring to the beer that passes through with difficulty. When poured you get a nice half inch tan head. The bubbles are small and it fades slowly to a film on top. There is some nice thick lacing on the side of the glass.
When first smelled you get a strong scent of roasted malts. An earthy undertone is noticeable if you take a second sniff. A slight chocolate accent is also detectable. The flavor is a good mix of roasted chocolate and coffee malts. There is a pleasant hop finish to it. The aftertaste has a slight bitterness to it that is not present in the beer itself.
This is a medium to full bodied beer. It has a great mouth feel that coats. There is only a slight carbonation to the beer. Itís a beer that is easy to drink when itís either warm or cold out.
This is a favorite beer of mine. Not only do I enjoy drinking it, but I will buy growlers full of it to share with others. Unfortunately unless you are visiting Rockford, Illinois or have someone bring you a growler, you canít try this beer at this time. Iíve been talking trying to talk them into starting to bottle it for years, but they just wonít do it. If you like a dark beer that isnít as thick as a stout or porter, youíll love this beer. I give it 7.5 out of 10.

Posted by Contagion in Alcohol at October 24, 2007 06:34 PM | TrackBack